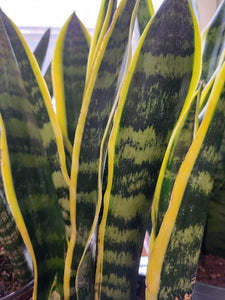 The Snake Plant Zeylanica is a succulent plant characterized by its upright swordlike leaves with green reptile-like variegation.
A study done by NASA using a few selected plants (one is Sansevieria) for air purification came back with great results. This plant is excellent at air purification.
In China, it was kept as a treasured houseplant because the Eight Gods bestowed their eight virtues on those who grew them
Extremely hardy house plant, difficult to kill
Light: Low to bright, indirect light
Water: Water when the soil has fully dried
Considerations: Tolerant of a wide range of light conditions - just be sure not to overwater. The foliage will pucker slightly when the plant is thirsty
Great resource
Loved working with Crazy Plant Bae! Such a great resource for all things plants. Teresa is a joy to work with. Will definitely use her services again.