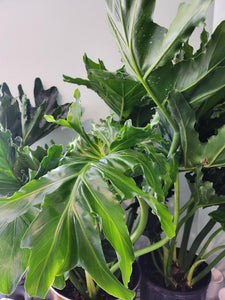 Plant Haven
I would highly recommend Crazy Plant Bae! You can genuinely recognize the love the staff have for all the many variety of plants they have available. If you see something get it! It may not be there when you return! Also, check out the assortment of planters and other plant related items. Especially the plant care to ensure your plant thrives once it leaves the store! S/o to the owner and the other ladies who make the environment thrive too!
A great new plant in my home
I am in love with this plant. So thankful that The Crazy Plant Bae gave me helpful tips on care, already have a new leaf. Would definitely recommend both the shop experience and this plant for fellow plant enthusiasts. ☺️
Heavenly!
I loved shopping at Crazy Plant Bae. I bought some big plants for my workplace, and they have really brightened up my life. Imani was so sweet and helpful and he even drilled holes in the bottom of a planter for me!