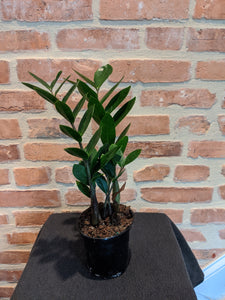 The ZZ (Zamioculcas zamiifolia), or Zanzibar Gem, is a semi-succulent native to the semi-arid regions of Eastern Africa. It is accustomed to long periods of dry conditions interspersed with bursts of generous rain. As such, the ZZ has evolved an efficient rhizomous root system that holds on to as much water as it can absorb, as well as fleshy, moisture rich leaves.
This is a plant that thrives on neglect and is a great choice for frequent travelers, those who occasionally forget to water, or for the office. Indirect bright light is ideal for a ZZ, but they are also content in low light situations and in direct light, making it a versatile and near foolproof indoor plant.
diana
I love my new ZZ plant. its been on my list for awhile and I was so glad to find it!!
Perfect!
Received in excellent shape. I'm very happy with my first order!
Excellent Experience
The website was easy to navigate. The plant arrived well packed and on time. I will order again.