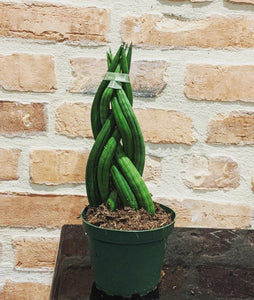 The Sanseveria Cylindrica know also as Braided Sanseveria or Dragons Fingers can be braided or left to grow upright.
Sansevierias are drought resistant and like biweekly watering during warm months and monthly during the cold months.
Such a beauty!
I love my new baby braided Sansavieria! Terric quality and the customer service is just bomb!
Love My Braided Sansevierias
Beautiful small plant 🥰 Excellent service! Will be ordering again for plant decor in our family room.
2in Braid Sansevieria
Arrived in beautiful shape. Even taller than I expected! I love the braiding!
Cutest little braid plant
Loved it! Arrived perfectly
Great
I ordered this back in August and the plant is growing beautifully. I even have two new baby ones in the same pot. I dont know what to do with it though. Love the customer service and Im looking for a plant to order for my Nana for her Christmas. 😊