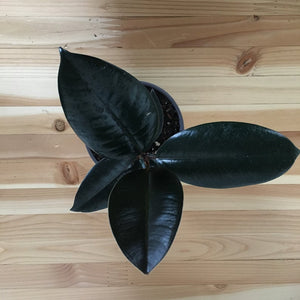 The Rubber Plant is one of the most common houseplants worldwide.  It's broad dark shiny leaves and size bring a tropical feel to any indoor space.  It is an easy plant to care for, making it a great choice for beginners. The Rubber Plant is a particularly fun houseplant because it has dark purple-green leaves that are very shiny.
Beautiful plant
She came perfectly in tact thanks to the packaging. A beautiful plant
Happy Plant, Happy Plant Parent
I'm so pleased with this purchase! Because of holiday hold ups with mail, my plant arrived a full week later than anticipated, and it was still ALIVE (and looked good). So far it's pretty and potted and I couldn't be happier.
Thank you so much!
My plant arrived in perfect condition (despite the heat wave during those days of shipping) thanks to your packaging! She is nice and healthy and added an elegant touch to my personal jungle :) She also came in her own pot, which is a HUGE plus! Thank you again, I will absolutely be returning for more!
Beautiful plant, packaged beautifully!
My order came so swiftly, and arrived safely packaged with minimal shipping damage! Thank you!
Definitely will order more plants!
These plants arrived in perfect shape and seem very happy in my home! I had no idea how you could send plants through the mail but was pleasantly surprised. Great communication and great company.