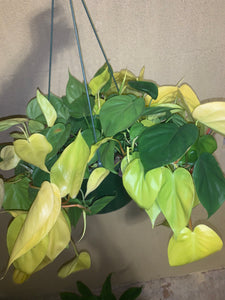 Tolerant of low light, prefers bright indirect light. Consistent moisture.
Such an amazing experience.
I saw an advertisement online about the Relaxation and Purifying bundle options. I stopped by the store and fell in love with the whole vibes. Teresa explained care instructions and even set my order on location. Crazy Plant Bae exceeded all expectations. Such a positive vibe.
Lemon Lime
I ordered a lemon lime philodendron that was pretty beat up, maybe the last they had. It's only been in my home for about a week now & it's winter, so I don't expect dramatic changes. I hope it does perk up though! If I can get some good growth out of this lemon lime, I'll definitely shop again (in Spring).