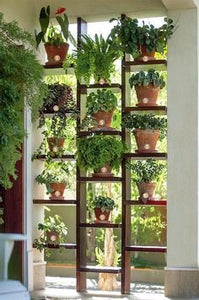 Lucious & exotic living plant walls will complement your decor & complete any space. Choose from a variety of sizes & quantities to fit your needs. 
All plants are 4" - 6" potted plants in coordinating colors to fit your theme. Wooden wall not included.
Ability to add on maintenance and upkeep plans. A staff bae will come out weekly to water, trim & maintain plants as needed. Living plant walls are also eligible for seasonal exchanges & plant upgrades. (Maintenance & upkeep plans available in Baltimore & New Orleans)
Extra Long Lead Time
I really wanted to love the service but the super slow deliver time was too much. My order was shipped to the wrong address. I had to constantly contact to owner-nearly 20 messages to resolve the issues caused by the company. Five of the 18 plants arrived dead. The set is super overpriced too. All of the plants were small. It will be years before the plants look like the pictures.