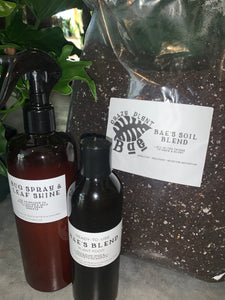 Spring time is for repotting, fertilizing & cleaning!!
We have everything you need to get your plant babies ready to grow & glow.
Soil: repot your babies into our perfect blend for just the right amount of water retention & aeration
Fertilizer: feed your babies with our tried and true ready-to-feed mix
Bug Spray & Leaf Shine & Wipes: clean leaves are key to helping your baby breathe well and look her best. Also will help to keep pests away!
Soil amendment for shipping!