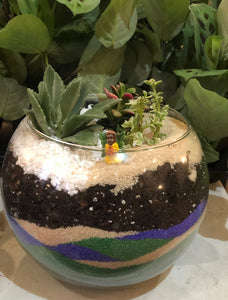 Includes all supplies & sips to create an open or closed terrarium. Kids ages 7+ welcome!
open terrarium kits include succulents or the like that need air flow and drier climate. Closed terrarium kits have lids and create moisture so more humid loving plants enjoy this environment 
5" includes 2-3 plants. 8" includes 4-5 plants. 


bring your own glass vessel from home is a great way to recycle! Includes 2-4 plants depending on size!
Terrarium workshop
Really enjoyed the work shop. Will be attending more classes when offered.